What are your favorite Christmas Tree Ornaments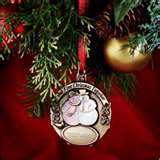 Everyone has favorite Christmas tree ornaments that are special to him or her. Some choose them according to what they are, such as a favorite pet or item. Some just choose them because they may have been gifted to them by a special person. Some are just appreciated for their natural beauty.
Do you have favorite Christmas tree ornaments? Mine can be found in my entire holiday tree. My husband and I began collecting any Christmas tree ornament that has to do with animals. We have every animal you could think of hanging from our tree.
Every Christmas tree ornament that we have has its own special memory attached. Every time we go away on vacation, we seek out the year-round Christmas stores and purchase Christmas tree ornaments with an animal theme. On our honeymoon, we found a flying duck ornament.
Wherever we go, we always find a Christmas tree ornament. Oddly enough, we were in Florida, and we were able to find Christmas tree ornaments in mid June. It is a fun activity and a new tradition as a married couple that we have continued for over 11 years.
We had a pretty bare tree for a few years. In order to fill up our tree with more Christmas tree ornaments and less tinsel, we sought out holiday Christmas decor decorating sets. As time went on we found ourselves traveling less. We then would look for a Christmas tree ornament that signified important times in our lives.
We sought out a baby kitten ornament to signify the birth of out daughter. We found a family of birds in a nest to signify the purchase of our home. We currently will be keeping our eyes open for Christmas tree ornaments to signify the birth of our son this year. My husband and I were able to find a decoration that resembles each of our pets.
Our little tradition is unique in that even tough we have a motif for our tree; we have a huge variety of Christmas tree ornaments. We have over 53 of them at this point. Each one has a special meaning. Every Christmas we unwrap each piece and remember when, where and why we bought it. We enjoy telling our daughter the story behind each piece and why it is important to us.
We also will be telling our son as the years go by. In the end, we will give our children their personalized Christmas ornament when they move out and are ready for them. Until that time, we will keep them home with us and add new Christmas tree ornaments as well as new X-mas memories.